Nice to meet you!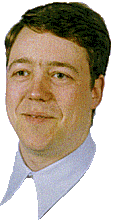 Hello, I am Lammert Bies, the owner of this site. I was born 53 years ago in the Netherlands. Until recently I have lived there, but since my wedding in 2003 things have changed rapidly. Nineteen years ago I met a woman in Kazakhstan and although cultures are different, we both have the feeling that we can have a very bright future together.
This doesn't mean that I will stop my activities as a computer programmer. My broad customer base, distances that are getting smaller because of modern communication techniques and the type of work I am doing make it possible to continue working, almost independent of the place on earth where I am.
Since the late eighties, I am developing software for industrial and telecommunication applications. According to my business card, my job title is Managing Director. Did you have that in mind when you saw my photograph first, huh? Never judge on a face only!
Well, general manager does not mean I'm managing a lot of people. It does effectively mean I am managing a lot of work: financial administration, brewing coffee for my customers, cleaning my office now and then and even sometimes developing some pieces of software. Reading this it looks that being alone in a company is hard, but insiders told me that managing people is still harder than managing work. Therefore, I will keep it this way for a while …
Lammert Bies